The DStv Explora has made finding what you're in the mood for even simpler.
So you can find your perfect entertainment match quick and easy just by a click of a button.
The first option, is to press the "i" on your remote to see the title of what you're watching. Scroll down to see the DStv schedule for the next 24 hours.
Want a bird's eye view of all your available channels? Press the right arrow (marked grid) to call up the channel list.
More Options To Guide Your Viewing
Use the TV Guide
Use the TV Guide to check what's coming up in the next 8 days.
Features
Hit Search to find the show you're looking for.
You can be as general or specific as you like.
You can do searches based on PG Rating, or on Themes like drama or comedy.
You can search for things like movies starting in the next few minutes. Or all live sports events coming up in the next 24 hours.
You can even search for documentaries or magazine shows that feature your favourite sports team.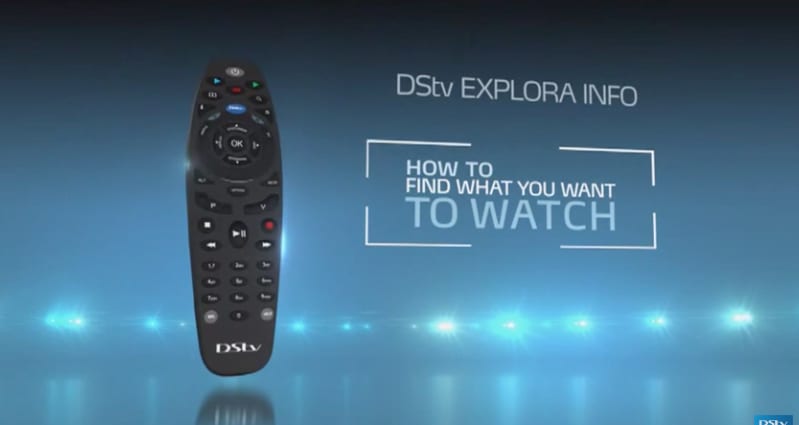 Set a reminder on your favourite shows
Here's another awesome Explora function. If you find something that you really want to watch but it's already started, you don't have to panic. You can check when it's showing by :
Step 1- pressing OK on the program and selecting Other Airings.
Step 2- From here you can set a reminder or a recording and make sure you catch it next time it is on.
Step 3- Press the blue DStv button on your remote to get to DStv Central for a quick look at the latest Box Office and Catch Up shows.
Step 4- Or if you want to go straight to Box Office, just press the green button to go directly to the Box Office menu to rent a movie of your choice. Or press the Catch Up button, to catch up on any series, movies, sports, and more that you might have missed. Easy to find thanks to the categories and program picture displays.
And that's it! All in the palm of your hand. Check out what's new, see what's coming up, or search for something specific.  Rent a new release blockbuster, or catch up on the hottest shows. With the Explora finding something to watch is easy. It's just a matter of deciding what to watch first!
For more interesting tips and short-cuts, visit www.dstv.com/explora.
DStv Explora – the best just got better.
https://localdstvinstaller.co.za/wp-content/uploads/2018/10/DSTV-Self-Service-How-to-find-what-to-watch.jpg
460
786
LocalDSTV
https://localdstvinstaller.co.za/wp-content/uploads/2018/02/no-300x141.png
LocalDSTV
2018-10-08 16:22:13
2019-04-08 09:50:17
DStv Explora Info: How To Find What You Want To Watch