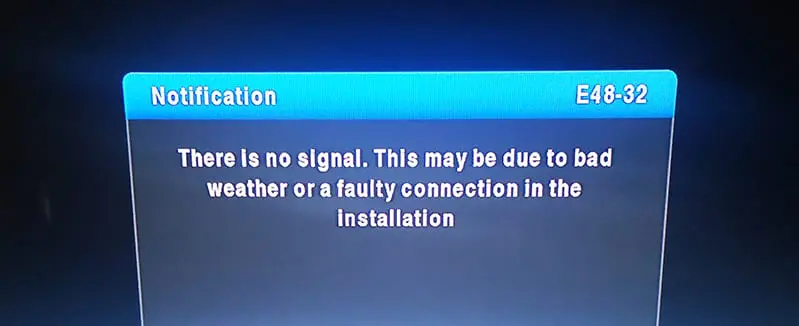 One of the most common DSTV error codes users experience is the E48-32 along with a message that says, "There is no signal due to bad weather, faulty wiring, or wrong installation." If this has happened to you one or two times, the struggle of figuring out how to fix it can be very frustrating especially if it is something you personally cannot do on your own.

This error usually comes from the DSTV decoder models 4S, 4U, 5S, 5U, and Explora 1, 2, and 3. If you still own a HD PVR 2P and 4P, the message will say, "searching for footprint" and for those who still own 1110, 1131, and 1132 models the message will say "Searching for signal."
If this problem persists you will need to call your local DSTV installer to come and look at the problem and test your system and maybe realign your dish.
What is Causing the problem?
Normally, this error would only be temporary if a rainstorm causes it, but it can also cause permanent damage if your dish is not installed properly with faulty or obstructed wiring.
Rain Fade – This causes the user's signal to get lost because of a strong rain shower amid your dish and the satellite in the DSTV transmitting dish at the broadcast company. If this is the culprit, there is nothing much you can do about the problem except to make sure that your dish is seamlessly corrected by a licensed technician and a signal strength meter. The other option would be to have a bigger dish installed, so that the dish can provide a sturdier signal and overcome the signal loss during smaller storms.
Obstruction – This is caused by balconies, trees, or overhanging roofs. To fix this problem, you can cut down some branches on the trees or move the dish to a better location where it cannot be obstructed. There are special dish brackets available for purchase, which you can avail and mount on another part of your house over your roof so that it is above the trees.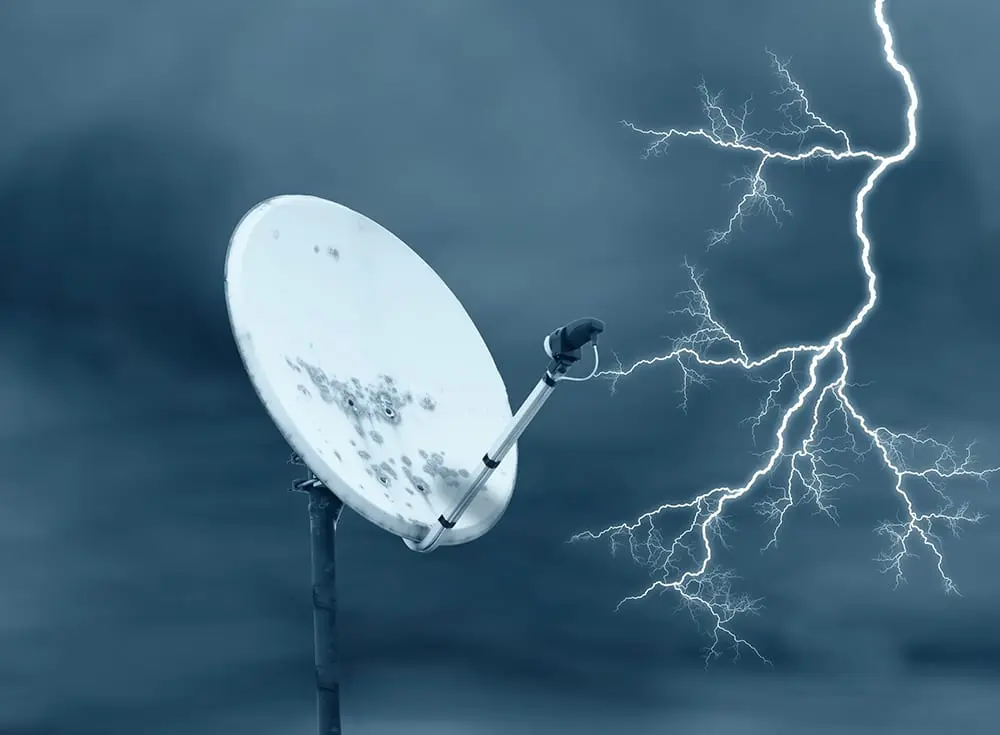 Other Faulty Satellite Dish Installation Possibilities
Low Noise Block (LNB) – a faulty LNB is quite common especially after a rainstorm because it is sensitive to electronic items. If you do not know what this is, it is the "eye" on the end your dish's metal arm. If the skew angle on your LNB is incorrect, it could cause a high bit error rate (BER) and lower the quality of your signal. This is also a result of non-licensed technicians who use cheap signal satellite finders that do not have the capability to measure BER.
In some cases, if your dish is not mounted properly, bumped, or misaligned, it can also cause signal issues. This is why having a licensed installer is important, so as not to cause issues.
Water could also be an issue, especially if it gets into the cables. If you see that it has nothing to do water, it could also be due to poor workmanship where the F-connector on the cable has not been waterproofed at the Low Noise Block. The water could have entered the LNB, which can happen if the plastic cover found on the front is too old and ends up cracking in the sun.
Check if your inline cables are faulty. If they are exposed to moisture especially since they are outside it can cause your signal to weaken. Ideally, your cables should have no joints. Should the need arise for joints; these should be placed inside your house not outside.
Loose F connectors that loosen from the cable can also cause signal loss. When a decoder has been connected and disconnected one too many times, it can cause your signal to weaken. At times, this can also be caused by accidentally pulling out the cable out of its connector while cleaning behind the TV.
https://localdstvinstaller.co.za/wp-content/uploads/2019/08/DSTV-Error-48-32-E48-32-Clouds-Text.jpg
665
1001
LocalDSTV
https://localdstvinstaller.co.za/wp-content/uploads/2018/02/no-300x141.png
LocalDSTV
2019-08-28 14:24:02
2019-11-21 10:34:33
How to Solve Error E48-32