There are a number of way to pay DSTV?
In this post we will cover
1. Pay DSTV via Self Service
You can pay your DSTV account using DSTV's self service website. Click here to visit DSTV's self service website.
You can check your DSTV balance on the self service website to see how much you owe and then pay the correct amount straight from the website.
To pay DSTV through the self service portal click on the "Pay Now" button from your dashboard.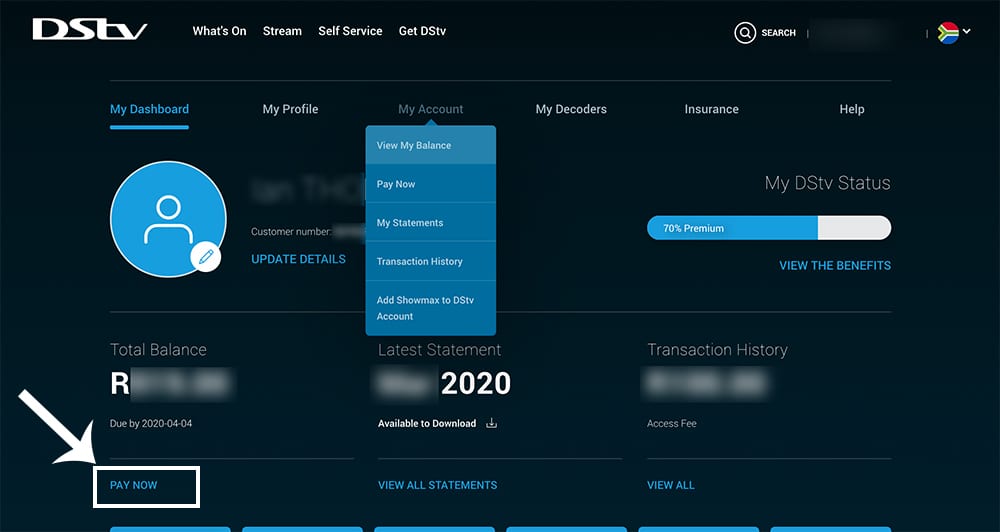 You will be taken to a page that shows the amount you owe and displays a number of options for how to pay.
You can choose from Instant EFT, Credit Card, Debit Order, Snapscan, Zapper, Masterpass or Online Banking.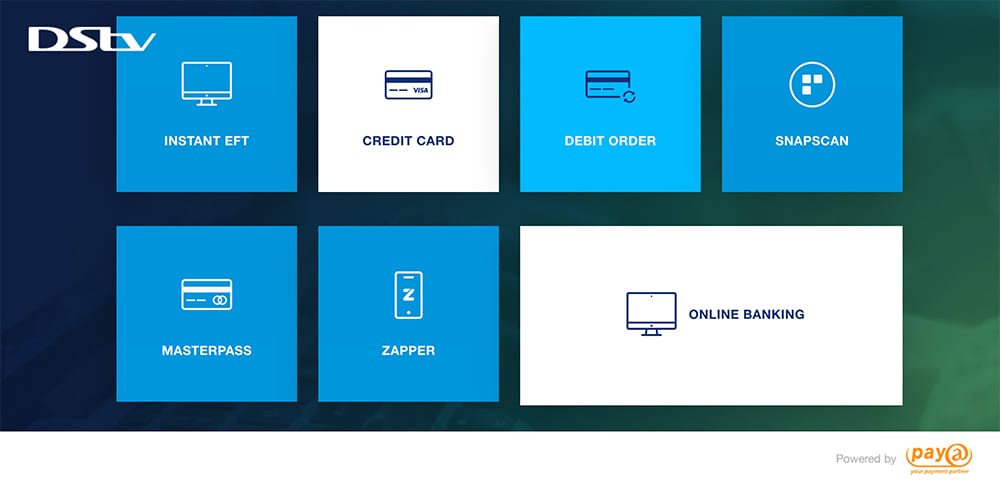 Choose the option that suits you and you will be redirected to that payment method. Eg. This is the screen if you decide to pay DSTV via credit card.
2. Pay DSTV via their mobile app
You can download the mobile app from the Google Play store or Apple App Store.
3. Set up a debit order to pay your DSTV account.
You can make your DSTV payment simple and easy and always on time by setting up a debit order for your account.
To set up your debit order, click on the button below and it will take you to the page on DSTV Self Service where you can do this and just follow the step by step process.
i. Select the DSTV Account Number from the dropdown list.
*If there is no account number you will need to contact DSTV in order to proceed.
ii. Select your payment option from "Debit Order" or "Cash". Choose Debit Order.
iii. Fill in your bank account details, make sure these are accurate and from the bank account you would like the amount to be debited from.
iv. Click submit once all your details have been filled in.
4. Pay DSTV through an Internet Payment ( EFT )
You can pay for your DStv account by using an EFT.
To find out how much you owe, you can view your balance on your Account dashboard or dial *120*68584# from your mobile phone.
Then go to your banks internet banking website, or their app on your mobile phone and add Multichoice as a new beneficiary. To do this, choose MultiChoice from the list of pre-approved beneficiaries on your bank's internet banking website. Use your eight-digit MultiChoice customer number as the payment/beneficiary reference.
If you don't bank with major banks your payment may take up to 48 hours to reflect.

For your convenience, if your services have been disconnected and you have paid the correct amount, we will reconnect you automatically once the payment reflects.
5. Pay Your DSTV Account With A Credit Card
You can either use the DSTV self service website to pay via a credit card and check your balance at the same time. Alternatively you can use a credit card at any DStv Service Centre or DStv Agency near you.
6. Pay Your DSTV Account From Your Banks ATM
You can pay your DSTV account from one of your banks ATMs. All you have to do is add Multichoice as a beneficiary and then make a payment. Remember to use your eight-digit MultiChoice customer number as the payment / beneficiary reference.
7.Direct Deposit Through ABSA
You can pay DSTV via direct deposit from an ABSA branch or ATM.
ABSA Branch: MultiChoice is already a pre-approved beneficiary. All you have to do is give the bank teller your eight-digit MultiChoice customer number.
ABSA ATM: MultiChoice is already listed as one of the service providers. Just select the option and follow the instructions to make payment.
Retrieve the amount due for payment online, or dial *120*68584#.
8. Pay DSTV At Your Local Supermarket
You can pay your DSTV account at your local supermarket. You can pay at any of these locations:
PEP
Pick n Pay
Shoprite
Checkers
Ackermans
Spar
Shoprite/Checkers
When making a payment, you will need to provide your DStv Customer Number as your reference, as well as the code 11374 before your customer number. So, if your DStv Customer Number is 12345678, when paying, the reference number will be 1137412345678.
Pay at any store with a Kazang© or Flash© point of sale device
Apart from various supermarkets, you can pay for your DStv account at any store that has a Flash or Kazang point of sale device. If you see any of the below signs at a store it means you will be able to pay for your DStv account there.
NB! Payments made at stores must be made at money-market counters using your eight-digit MultiChoice customer number as the reference.
9. DSTV Walk In Centers
DStv walk-in centres are located in Cape Town, Durban and Randburg. For Pretoria customers, DSTV is in Menlyn. You can visit the Aerial & Satellite Excellence store – Shop 44, Waterglen Shopping Centre.
Alternatively, you can check your balance & pay, clear errors, upgrade & more using our WhatsApp Self Service option, save our number 060603788 & say 'Hello' to get started.
DStv Agencies
DStv Agencies are located in various places nationwide.
Only credit card or debit card payments are accepted at MultiChoice Agencies, no cash payments or cheques are accepted.
Decoder insurance payments are not accepted at DStv Agencies, only via the self-help kiosk.
DStv Self Service kiosks
DStv Self Service kiosks are available at the Cape Town, Durban and Randburg walk-in centres and DStv Agencies nationwide. The kiosks enable customers to make DStv payments and view payment transactions and are designed to process card payments.
The kiosks accept debit cards with 3D secure chips and pin verification. Customers can also use credit card payments including American Express. The machines do not print out receipts but give customers an option to choose between receiving confirmation via an email or SMS.
10. Pay DSTV via USSD Technology
If you bank with FNB, Nedbank, Standard Bank or Absa, you can now pay your DStv subscription and top up your BoxOffice account from your mobile.
Simply dial the following number, depending on who you bank with, and follow the steps to pay.
FNB USSD
Dial *120*321#
Reply 1 for buy
Reply 7 for PayTV
Reply 1 for DStv
Enter your smart card or customer number for Dstv
Reply 1 for Pay amount due
Reply 1 for confirm
Nedbank USSD
Dial *120*002#
Reply 1 for login
Enter your profile number followed by your pin
Reply 2 for payments
Reply 2 for bank apprived beneficiaries
Select debit account
Enter the first three letter of the beneficiary name (DStv)
Reply 2 for DStv subscription
Enter the statement description (you can find this on your statement)
Enter the beneficiary's statement description (DStv reference / account number)
Enter the amount you want to pay
Choose the notification type (this is for the beneficiary)
Standard Bank USSD
Dial *120*2345#
Reply 1 to login / register
Enter your customer-selected PIN (CSP)
Reply 2 for payments and transfers
Reply 6 to pay MyBills
Reply 1 to pay bill
Reply 1 to select DStv Subscription
Reply 2 to pay other amount
Enter the amount you would like to pay
Enter your reference for the payment
Select the account you would like to pay with
Reply 1 to confirm payment
ABSA USSD
Dial *120*2272#
Enter your USSD PIN number
Reply 3 for payments
Reply 4 for bill payments
Reply 3 for pay bills
Reply 3 for DStv
Reply 1 for amount due
Reply 1 to pay full amount
Reply 1 to accept payment T&Cs
Reply 1 to confirm payment
Reply 1 to make payment
Banks that are currently not offering USSD payment
Capitec
Discovery
Investec
African Bank
Remember that you can dial *120*68584# to see how much you owe.
11. Pay With DSTV's QR Code
For immediate and hassle free payment and to pay now, scan the QR code below.
Need help with how to scan a QR code? Click here to activate your QR code reader on your iPhone and scan your DSTV QR code.
12. Payment Link
When you receive an SMS or MMS from us, reminding you to pay your DStv account, you'll notice a link at the end of the message. Simply click on this link to make an instant payment from your mobile phone.
https://localdstvinstaller.co.za/wp-content/uploads/2020/04/How-To-Pay-DSTV.jpg
589
1000
LocalDSTV
https://localdstvinstaller.co.za/wp-content/uploads/2018/02/no-300x141.png
LocalDSTV
2020-04-04 18:45:23
2020-04-05 09:44:53
How To Pay DSTV